Author: Jane-Marie Auret
When the Lebanese government announced a tax on WhatsApp calling, chaotic protest erupted on an unprecedented scale. News outlets dubbed the protests, "The WhatsApp Revolution."  It's not just Lebanon that relies on WhatsApp for day-to-day communication. WhatsApp connects 2 billion active users worldwide. It is becoming more popular than SMS. 
As of 2022, WhatsApp connects about one fourth of the world population. It connects friends, family, and even business —but what about financial services? Firms in the United States feel hesitant to incorporate WhatsApp into their business practices because of compliance concerns, for good reason. Companies need to be able to prove a good faith attempt at regulating communications between their employees and customers, or they'll be held liable for not protecting their customers. The company and employees can face expensive litigation, as well as a destroyed reputation. How can financial services adopt WhatsApp messaging?
When you're evaluating your options, there are important factors to consider. Common solutions include background recording agents, modified WhatsApp clones, or Web App scrapers. But are these solutions equal? Certainly not. 
See the comparison below: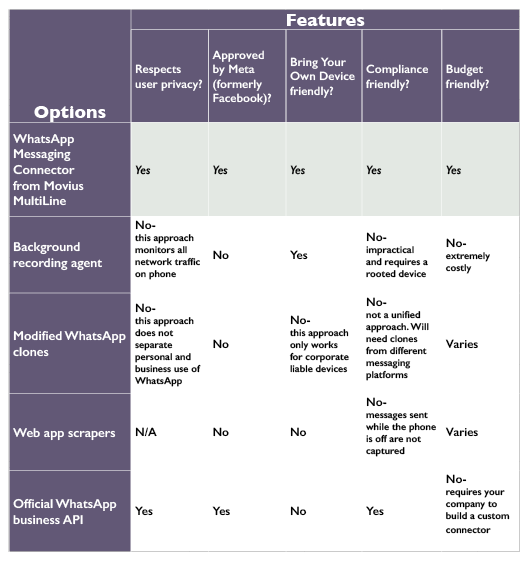 Financial services can adopt WhatsApp messaging through the MultiLine WhatsApp Business Messaging Connector  by Movius, demo video here. Employees can message clients using an official WhatsApp Business Profile. Employees can send and reply to WhatsApp and SMS conversations from the MultiLine Messages screen. The Connector automatically handles required actions such allowing users to opt-in or opt-out of receiving WhatsApp messages. Organizations can also configure lexicon policies that block unwanted message content such as credit card numbers or abusive language. MultiLine by Movius also seamlessly integrates with applications like Microsoft Teams and Salesforce.
Global financial institutions trust MultiLine by Movius as the right solution to solve their privacy, compliance, and security concerns. All MultiLine data is securely encrypted end-to-end on the entire journey to an organization's preferred compliance archive.
Don't miss out on connecting your business to the 2 billion WhatsApp users worldwide, schedule a demo with us today. With our Digital Safe offering, text messages and social messages sent in MultiLine are automatically uploaded into your archival system of choice. Your company can manage the archived text messages and social messages in their preferred platform, such as Dubber, Verint, Global Relay, NICE and more.
Subscribe for the Latest Posts